Nazi graffiti painted on Serbian church fence in Bosnia
July 30, 2020. Locals were frightened by threats and nazi graffiti recently discovered at their Serbian Orthodox church in the village of Dobrič in Bosnia and Herzegovina.
The graffiti was found on the fence around the Church of the Resurrection of Christ and the Orthodox cemetery on Tuesday. Unknown vandals painted, "All this awaits you," as well as the letter "U," which is the symbol of the Croatian fascists, the Ustaša, reports Nezavisne.
Fr. Nebojša Radić reported the incident to the police the same day, stressing that the inscription seriously scared and upset local residents.
"This is terrible vandalism. I expect that the police will find and punish those responsible, and the competent authorities will condemn this," the cleric said.
The village of Dobrič is home to about 40 Sebs, while the majority is Croats. The Serbs say they typically have good relations with their neighbors but are afraid that the threats will be carried out.
"This really is waiting for us," they believe.
Visual testimony: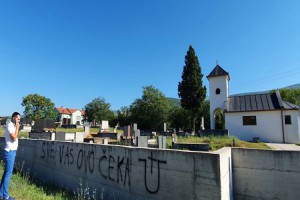 Sources:
https://orthochristian.com/133044.html
https://www.nezavisne.com/novosti/hronika/Ustaski-simboli-i-prijetnje-na-pravoslavnom-groblju-u-Sirokom-Brijegu/612884?fbclid=IwAR3tA4JyM4aTf35wPtFVReEb37P_UL1Rz5deml-zG5L49X50mhQYqobxmr8