A fake directing the UOC faithful to KP "cross procession" spread online
July 23, 2018. A poster showing the cross procession led by the Primate of the UOC with the place and date of the "procession" of the Kiev Patriarchate is disseminated on the Internet.
The creators of the fake Facebook page of Metropolitan Vissarion of Ovruch and Korosten, whom the hierarch himself called "the enemies of the Holy Church of Christ," published a poster on his behalf, misleading the believers of the UOC.
The falsifiers took as a basis the announcement of the UOC, dedicated to the forthcoming festivities by the Church of the 1030th anniversary of the Baptism of Rus, and in the photo editor replaced the date for July 28 – the day when the "cross procession" of the UOC KP is planned.
Cases of spreading various fakes on behalf of the UOC, including the information on the recognition of the SLC, have increased recently.
Earlier, false paper and online publications and newspapers with fake information were disseminated in the Dnepropetrovsk, Kirovograd and Ivano-Frankovsk eparchies.
In Kropivnitsky, under the guise of an eparchial newspaper, the alleged call of Metropolitan Joseph to the creation of the SLC in Ukraine was spread. The Kirovograd eparchy officials called the incident "a crude unscrupulous provocation by opponents of the Ukrainian Orthodox Church".
Photo document from the UOJ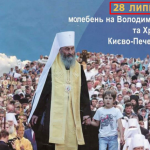 Sources:
http://spzh.news/en/news/54939-v-seti-rasprostranyajut-fejk-napravlyajushhij-verujushhih-upc-na-krestnyj-khod-kp